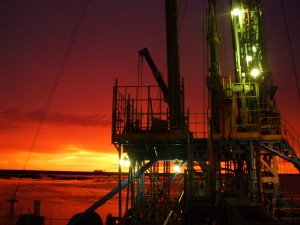 Technical capabilites and infrastructures
ASCOM has all the necessary technical capabilities to successfully fulfil any contractual obligations within the oil and gas field. It may use its own rigs, lease, hire, or purchase new equipment as determined by drilling rig sizes, estimated performances and duration of contracts.
The purpose of such policy is to select rigs best suiting the terrain conditions, climate and formation properties. Accordingly, the company may use stationary, trailer, or self-propelled rigs with the required technical parameters, combining high quality with profitability and efficiency.
ASCOM has a wide range of capabilities to drill new wells and to perform well recoveries and workovers through the use of its own rigs F-320, F-200 and F-100, equipped with demountable bases, rotary tables, circulating systems with mud preparing and solids control units, mud pumps, power packages, up-to-date BOPs, etc. The availability of such rigs enables the Company to drill efficiently at depths up to 6000 m and undertake difficult workovers at depths of 5000 m. Light, mobile and reliable 50-60 ton rigs are used for standard workovers and normal well maintenance.
Selection of heavy or light rigs, depending on requirements, type and volume of works, permits an added capability to monitor profitability parameters and production rates – for example, under conditions of oil prices fluctuations.
Technologies
ASCOM's staff combines the best knowledge of three schools -Western, Romanian and former Soviet. The Company is also applying its own technical solutions which, as demonstrated in Turkmenistan and Kazakhstan, proved to be very efficient.
Highly skilled specialists and close teamwork enable the Company to plan and creatively implement technologies at high technical levels. All projects undertaken by the Company are carried out with maximum efficiency and in accordance with internationally accepted procedures. The Company is focusing upon developing expertise and cost effective solutions and projects in order to insure customers against all kind of risks. This policy shall bring benefits to every ASCOM partner. Using inhouse highly qualified expertise, we are providing:
Geological research projects;

Geological and economic evaluation of exploration and development perimeters;

Projects for development and exploitation of oil, gas and condensate fields; gas for all types of channeling;

Know-how transfer for workover programs;

Technical-geological projects for vertical or horizontal drilling;

Projects for completing production wells at different stages;

Well productivity stimulation projects;

Projects for impruving the recovery of oil and gas fields:

secondary conventional

secondary thermal

tertiary

Projects and solution studies to design the entire range of surface facilities (e.g. collection, separation and transportation of oil, gas and condensate);

Geological interpretation of 2D/3D seismic and well data by using Charisma-Geoframe software (Schlumberger Registered);

Production monitoring for all types of hydrocarbon fields.