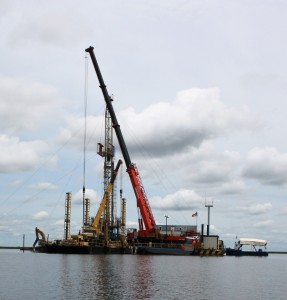 Sep 16, 2010
In June, 2005, ASCOM Group S.A. has signed a Production Sharing Contract for petroleum operations in Block 5B (20 120 sq.km) of Southern Sudan with the Government of Southern Sudan and has been assigned as Operator holding 95% of working interests.
During the initial exploration period (5 years), the following works have been carried out: topographic surveys and mapping, acquisition, processing and interpretation of 2 029 km of 2D seismic profiles, drilling of 3 exploration wells, EIAs covering all exploration activities, civil and infrastructure works inside of the block i.e: 136 km of roads constructed, a 3000 meters long airstrip, over 80 km of navigable canals, an extensive tank farm for fuel storage, storage warehouse for tubulars, chemicals, spare parts, auxiliary, dock yard for barges, a camp accommodating 250 workers and staff including catering and first-aid medical centers.
ASCOM Group S.A. has also extensively contributed to the development of community through the establishment of an University in Bor town, of 2 fully equipped field hospitals in Ayod and Duk Padiet towns, rehabilitation and construction of roads, bridges and airstrips, construction of navigable canals, humanitarian demining campaign etc.
At the moment, ASCOM Group S.A. is conducting the re-processing and re-interpretation of all seismic, logs and wells geophysical data in order to develop an enhanced work program for exploration works in the block, following the decision of June 2010 to extend the initial exploration period by 2.5 years.