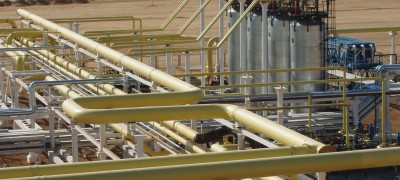 Drilling Operations
The Company is capable of executing onshore drilling of oil and gas wells on a wide range of depths and under difficult geological conditions. It possesses technical know-how and ability to meet the most stringent customer requirements in the following areas:
Drilling in high-pressure zones applying technologies permitting high-accuracy control of differential pressure.
Drilling under saline deposits using efficient technologies of chemogenic stratum penetration (strata with brine inflows, salt distortions and other anomalies).
Drilling on fractured and rough terrain.
Well casing and cementing operations under extreme geo-technical conditions, such as salt distortions, brine and other high-pressure inflows (including H2S), large caverns, depleted zones, plastic clays, fractured grounds, etc., as well drilling in small annular spaces
Well testing and wire-line logging while drilling and after installation of well casing (with and without packer technologies through original methods of data analysis and interpretation)
Fishing works and recovery operations, using original technical means and technologies, etc.
Accident recovery and repair works
1. High complexity works
Accessing pay zones obstructed by cemented tubing, stuck pipe, perforators, electro-sinking pumps, unrecoverable fishing tools, extraneous bodies, casing no-go due to deformation at limited intervals, etc., including wells abandoned or subject to abandonment due to failed attempts to continue operations by conventional means following the emergency, as well as on wells with exploiting deposits (strata) located above emergency zones.
Restoration of mechanical integrity of leaking casings; difficult cases of filtration zone insulation when returning to underlying or overlying horizons.
2. Medium complexity works
All types of remedial cementing operations except for zones with destroyed solid material matrix, referred to above as high complexity works
Fluid control operations
Freeing stuck pipes (plugged by sand)
Stabilisation of producing formation (sand control)
Upgrading well productivity by means of hydraulic fracturing, acid spotting and other methods
Opening-out of the underlying horizon (penetrating pay zone)through producing casing shoe, etc.
Other works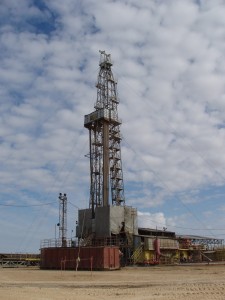 The range of Company's services includes, but is not limited to the above listed applications. Our personnel have in-depth practical knowledge, which provides them with flexibility to undertake any work associated with oilfield operations.
ASCOM can equally operate as general contractor or subcontractor, depending on client's needs and work specifications.
Within a fairly short period (of up to 4 months) ASCOM can summon the technical means needed for oil and gas well workover and construction in new areas on a "turn-key" basis. These include rigs of required capacity with BOPs, necessary tools, housing for drilling and workover crews, lifting, transport and other facilities required for autonomous operation.
The construction of new wells, as well as workovers of idle or emergency wells can be done either by using the designs produced by ASCOM specialists or by those provided by its customers.